How To Prepare Bible Messages is a very effective book written by James Braga. How To Prepare Bible Messages is a how-to-do-it book that sets forth a step by step process of preparing and delivering an effective sermon.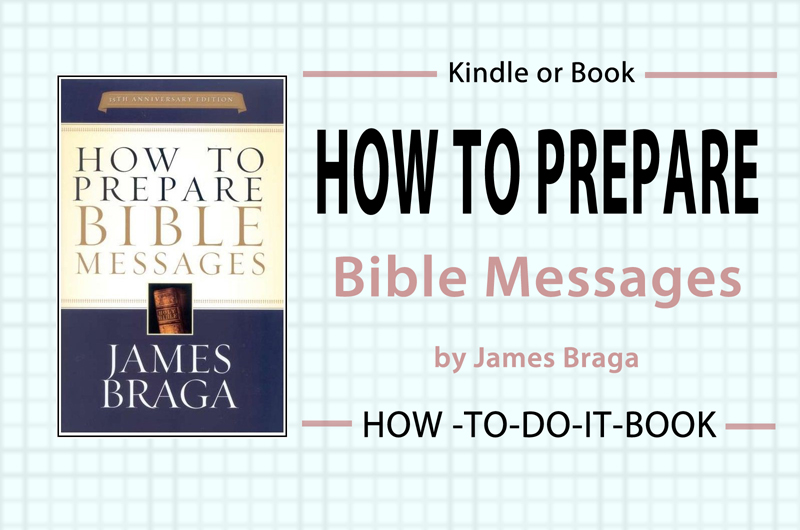 ABOUT THE AUTHOR
James Braga has been a missionary to China, a pastor and was for many years a professor at Multnomah School of the Bible.
James Braga maintains that pastors should learn to formulate their own sermon outlines. This may be tedious work at first but after some time will find it easier to prepare bible messages for their congregations.
"No amount of knowledge or of learning or of natural endowments can take the place of a fervent, humble, devoted heart which longs for more and more of Christ."
James Braga underpins his book by the premise that the most important factor in the preparation of sermons is the preparation of the preacher's own heart – How To Study The Bible For Beginners.
James Braga suggests unequivocally that a preacher must be a man of prayer an a man who understands spiritual warfare. Finally, James Braga states that "the man who is to preach the message of the Book must also be a man of the Book."
SOME SUMMARY POINTS OF HOW TO PREPARE BIBLE MESSAGES
How To Prepare Bible Messages is really a lesson on Homiletics (the Science and Art of Preaching).
However, what sets "How To Prepare Bible Messages" apart from the rest is that James Braga presents a step-by-step process that will help you understand how to prepare a sermon outline. After all, your sermon outline is your preaching road map.
How To Prepare Bible Messages provide seven basis steps in preparation of a sermon.
Choice of passage
Thorough exegetical study of the passage (hermeneutics)
Discovery of the main thrust of the passage
Construction of the sermon outline
Filling in the sermon outline
Preparation of the conclusion, introduction and title
Prayerful dependence upon the Spirit of God
How To Prepare Bible Messages primarily sets forth a deductive method of sermon outlining. However, there are several way you can construct a sermon outline – deductively, inductively or a bit of both.
How To Prepare Bible Messages is a book that every preacher should read regularly in order to maintain your understanding of homiletical structure. If you are going to preach two or three Bible messages a week, then you will need to understand homiletical structure.
For a preview of this book, click on How To Prepare Bible Messages by James Braga
SOME COMMENTS ABOUT HOW TO PREPARE BIBLE MESSAGES
When this book was originally published in 1969, James Braga understood that in order for God's Word to impact the people in a life-changing way, the preacher had to do his job exceedingly well.
Now, more than thirty years later, the guidance Braga provides preachers, pastors, ministers, youth leaders and speakers of all kinds for preparing and delivering effective Bible messages stands stronger than ever.
Time-tested and true, his words provide insight, guidance and tangible steps for answering God's call to proclaim His message with excellence.