Free Short Sermons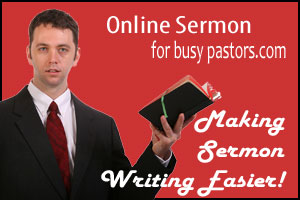 FREE SHORT SERMONS are available in a succinct format.
These free short sermons have been reduced so that they can be used for the right occasion.
Free Short Sermon From Romans 12:1-2
INRODUCTION
On August 16, 1987, a Northwest Airline flight 225 crashed just after taking off from the Detroit Airport. There was only one survivor among 156 people on board: a four year old girl named Cecilia. Cecilia survived because, as the plane was falling, her mother unbuckled her own seat belt, got down on her knees in front of her daughter, wrapped her arms and body around the little girl and refused to let go.
When we read a story like this, we can sense and feel the love of this mother for her child. In fact, her love was the impetus that enabled her to give her all for her child.
The Bible calls us to devote our lives to God. A devotion that enables us to give our all to God.
As Jesus Himself said, "You shall love the Lord your God with all your heart, with all your soul, and with all your mind. This is the first and great commandment" (Matt 22:37).
In many ways, as Christians we know [in our minds] that we should be totally devoted to the Lord. It's not that we don't understand the command. We do! The problem lies in how do we devote our lives to God so that we can give our all to God.
In Romans 12:1-2, we see three ways to devote our lives to God.
The first way to devote our lives to God involves...
1. Our Commitment (12:1b)
Look at verse one, "I beseech you therefore, brethren, that you present your bodies a living sacrifice, holy, acceptable to God."
Paul says, "present your bodies." Now, bodies here refers to the whole person. "Present your whole person a living sacrifice, holy and pleasing to God."
Paul is talking about total commitment here. Let me explain it this ways.
There's a pig and a chicken walking down the road. As they walk along, they read a sign advertising a breakfast to benefit the poor. The chicken turned to the pig and said, "You and I should donate a ham and egg breakfast." The pig replied, "Not so fast, for you an egg is just a contribution, but for me a ham is a total commitment."
The second way to devote our lives to God involves...
2. Our Focus (12:2a)
Look at the beginning of verse two, "And do not be conformed to this world..."
One of the greatest hindrances to our devotion to God is the trappings of this world or better still the trappings of this age in which we live. If we continually focus on these things, our lives will lack devotion to God.
As the writer to the Hebrews said, "Let us run with endurance the race that is set before us, looking unto Jesus, the author and finisher of our faith" (Heb 12:2).
The third way to devote our lives to God involves...
3. Our Thinking (12:2b)
Look at the end of verse 12, "but be transformed by the renewing of your mind..."
When we become Christians, God wants to re-shape or transform our thinking. He wants us to see things as He sees things.
God re-shapes our thinking through His word. As we read, mediate and memorize His word, we begin to see things from God's perspective.
Our commitment, focus and thinking plays a big part in our devotion to God.
More Free Short Sermons here!