Biblical Preaching
Biblical Preaching is a book written by Haddon W. Robinson that explains how to write a sermon and how to write a sermon outline.
Biblical Preaching - Haddon W. Robinson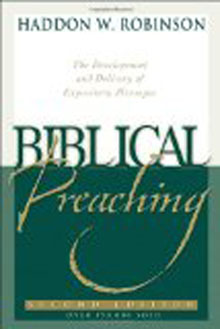 About The Author
Haddon W. Robinson has taught homiletics at Dallas Theological Seminary, Denver Seminary, Gordon-Conwell Theological Seminary and in many other parts of the world. He received his Ph.D from the University of Illinois.
I had the opportunity to meet Haddon W. Robinson when he was in Australia in 1992 and listen to him preach in person. I can understand why they call him one of the great homiletical professors in America.
Haddon loves preaching and he loves teaching preachers to preach the Word of God in a way that the message is easy to understand and easy to follow.
If you ever get the opportunity to hear Haddon W. Robinson preach, don't let that opportunity slip you by because he is a great preacher of the Word of God.
Summary of Biblical Preaching by Haddon W. Robinson
Biblical Preaching is often equated with Expository Preaching. In Biblical Preaching, Haddon W. Robinson looks at the need for expository preaching. After all, God speaks through the Bible.
Haddon provides a very clear working definition for expository preaching.
Expository preaching is the communication of the biblical concept, derived from and transmitted through a historical, grammatical, and literary study of a passage in its context, which the Holy Spirit first applies to the personality and experience of the preacher, then through the preacher, applies to the hearers.
After reading the case for expository preaching, you will have a greater appreciation of expository preaching or biblical preaching.
What's the big idea? The big idea is the single theme of the text or passage of Scripture you are going to communicate to your hearers. I called this the MAIN PREACHING POINT. Grasping this concept will allow you to preach sermons with sequence and flow.
Tools of the Trade: In chapters 3-8, Haddon lays out the ten stages of sermon preparation.
Select the passage
Study the passage
Discover the exegetical idea
Analyze the exegetical data
Formulate the homiletical idea
Determine the sermon's purpose
Decide how to accomplish this purpose
Outline the sermon
Fill in the sermon outline
Prepare the introduction and conclusion
Haddon packs a lot of information in these chapters. However, the single theme of communicating Scripture to your hearers is the most important when you are working your way through these ten (10) stages.
Haddon also deals with the structure of your sermon or sermon outline in chapter seven (7). Are you going to structure your sermon outline deductively, inductively or a bit of both.
The closing chapters of Biblical Preaching deals with putting flesh on the sermon outline and the delivery of the sermon.
If you want to discover the benefits of expository preaching, then this book is a must for reading.
For a preview of this book, click on Biblical Preaching - Haddon W. Robinson